Tool Posts and Tooling for Mini Lathes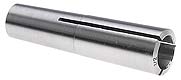 Shop for collets, tool holders, cutting tools and other accessories for Mini Lathes at Victor Machinery's online metalworking tool store.
The links on this page will display products available for online purchase.
We offer quick change tool posts including the
Phase II tool post set for mini lathes
with 9/32" to 23/32" center height.
For slightly larger lathes (including popular 7 x 10, 7 x 12, and 7 x 14 mini-lathes) the
Phase II hobby tool post set
covers center heights of 5/8" to 1-1/8".
We also stock the
A2Z quick change tool post system
for mini-lathes. This Made-in-USA system is not only economical, it can be ordered with mounting hardware for machines such as Taig, Sherline, Unimat, and Craftsman.
Other mini lathe accessories include
Lathe chucks
,
lathe dogs
,
lathe centers
, and
lathe mandrels
.
We offer
indexable carbide tool holders
,
carbide tipped tool bits
, and the
Nickcole mini cut-off and grooving system
.
We also carry traditional
lathe toolbits and cut-off blades
and the
toolholders
for them.
We offer drill chucks by
Jacobs
as well as quality import models - both
key type drill chucks
and
keyless drill chucks
. To mount the chuck to your lathe or drill press we offer
morse taper arbors
,
straight shank arbors
,
R8 drill chuck arbors
and
motor shaft adapters
. We also stock
blank machineable morse taper arbors
and
threaded morse taper arbors
which can be adapted to hold all sorts of tooling.
For tool holding we stock
Morse Taper and B&S collets
,
ER spring collets and collet chucks
,
3C and 3AT Collets
,and
5C Collets
.
If you wish to learn more about practical machining we recommend both Frank Marlow's
Machine Shop Essentials
and James Harvey's
Machine Shop Trade Secrets
.